Power Strip Recommendations
Recomendations for:
Power Strips
Remote Power Strips
All power strips should have built-in current monitoring.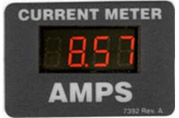 Reason:
A power strip running close to the maximum breaker rating may trip.

Solutions:
Geist RacSense® Remote Control PDUs
Geist RacSense® PDUs
Geist Ethernet Meter PDUs
Geist Basic PDUs with monitoring


Remote power strips should have web-accessed current monitoring.

Reason:
As equipment is added and replaced, you need to know how close to capacity the strip is running and how the loads are balanced.

For historical review, graphing is essential.

Solutions:
Geist RacSense® Control PDUs -does support graphing
Geist RacSense® PDUs -does support graphing
Geist Ethernet Meter PDUs -does not support graphing