RacSense ® - Console Software
RSCS-2 provides a bird's eye view of your data center climate and power conditions.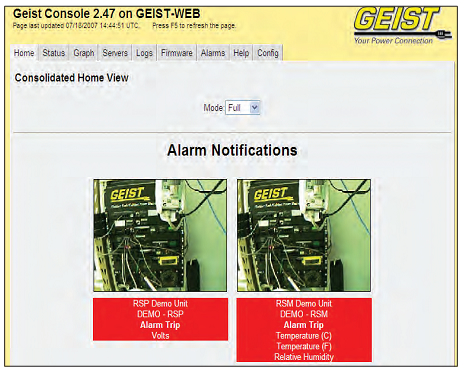 The RSCS-2 home page displays a thumbnail image, when available, for each user selected RacSense® unit. Below each image is the unit IP address, RacSense® device name and color coded unit status. Click through option links you directly back to individual RacSense® units.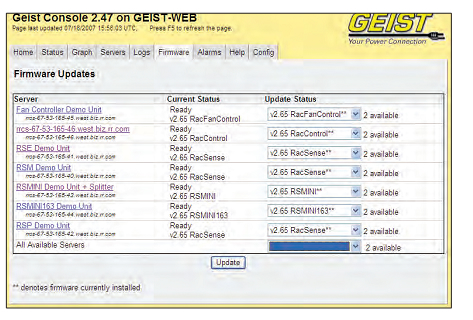 Push Updates

Convenient product maintenance via simultaneous updating of RacSense® unit firmware.
Push Alarm Configuration
Set low and high trip levels, in addition to alarm notification method, across multiple sensors and units with one easy step.
Historic Log Data
Automatically generate CSV log files of historic measurement data. Determine log creation frequency, log file location and file name.
Instant Status Indicator

Real-time measurement data for a selected value across all connected RacSense® devices. Color-coded readings to indicate at a glance diagnostic sensor status: not tripped (green), almost tripped (yellow),
tripped (red).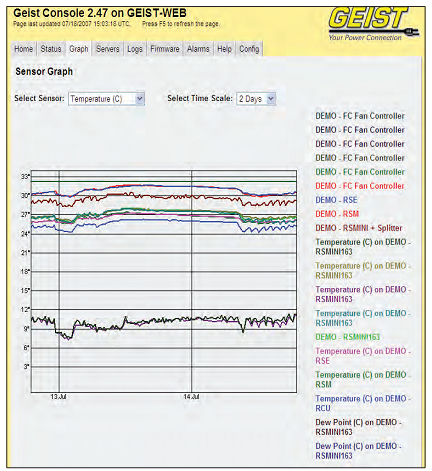 Interactive Graphing

Comparison graphing of user selected measurement values across your installation. Instantly identify locations which are under performing or are affected during specific time periods.
Servers - Attached RacSense® Units

Add, remove and view RacSense® units monitored by RacSense® Console Software. This Sensors
page provides a complete list of attached RacSense® units including unit friendly names, URL (IP address)
software versions, last update time and device status.