System Accessories
Tiny Temp
This handy diagnostic tool can be mounted near hot spots or carried by your technicians for convenient temperature spot checks near high heat producing equipment. Each unit contains a detachable 3.6M remote temperature sensor for precise placement. The digital display cycles between Cº and Fº readings with an accuracy of +/- .5ºC. This unit contains a low battery indicator and is powered by two AA batteries (not included) which are estimated to last one year.


Dimensions (MM) 44 x 483 x 22 (HxWxD)
482.6MM rack mountable unit Doubles as a filler panel



IEC Lead Set

Help minimize your lead tangle and increase airlfow to your installation.
Select a lead set for use with Geist IEC units.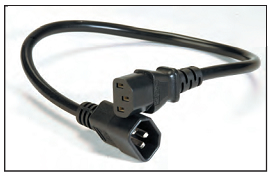 IEC C-13 Retaining Clip

Minimize the opportunity for your lead sets to be accidentally unplugged.
For use with Geist units containing C-13 receptacles.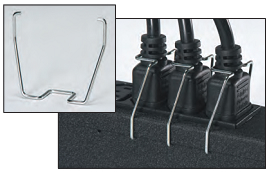 In-Line Power Meter GLCE-001C13-00C14
Update existing power strips with this in-line power meter. By inserting the meter between the power distribution unit and the power source (wall plug) you can easily learn amps, volts, watts and power factor. The values are continually displayed in bright red LED numerals. The standard unit uses IEC C-13 and C-14 connectors. Using these connectors the device is rated at 10 amps.