Environmental Monitoring Units
This is a series of systems, hardware based but very "soft" units (several "families" of products) designed to monitor (and thereby protect) Data Centres (Datacenters), server rooms, Network rooms, Network closets and cupboard installations and racks. Environmental Monitoring Units can be individual "all in one" POE modules which will give instant access to real-time temperature, humidity etc. (more or less any type of event or condition can be monitored) or Enterprise-wide systems which can report locally and centrally on all aspects of network Server operating conditions – Temperature, Humidity, Power drawn, Airflow etc. etc.

Even the simplest unit offered here has the capability to compose Graphs, log events, log operating data and send periodic routine reports, raise alarms by email, SNMP trap or SMS BEFORE critical operating parameters are reached or breached and generally to give you a present and historic view of what is happening with the Environment (Climate) within the actual rack where the server lives.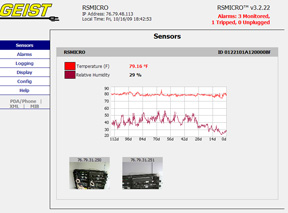 Of course Network (power and climate, or Environment) monitoring is a means to an end. Ideally, information stored by or sent by Rack-mount Environmental Monitoring equipment should be reviewed periodically so that any trends such as increased temperature or humidity or increased power usage can be investigated and the source of the Trend isolated and rectified.
Used correctly, Environmental and Power Monitoring Equipment can help to prevent Server, computer and Network appliance or equipment damage and resulting data loss owing to excess heat, excess moisture, water presence, power degradation or failure and any other event or parameter which needs to be monitored in any given situation.
You can choose any number or type of events or climatic conditions to be monitored– those which are most critical to any given situation. All of the product types shown on these pages are tried and tested and in use in thousands of live applications, and all are updated regularly to provide more options and better service. If in doubt, give us a call and we'll be happy to discuss your requirements.